2020 Holiday Promotions and Campaigns
With the holiday season upon us, many of our sales teams are taking advantage of these more upbeat times to run promotions with their partner schools. Several of the teams released specials during Black Friday/Cyber Monday and are continuing to push these efforts through to Christmas and New Years. Below are several examples of excellent, creative ideas and promotions that our sales teams are currently engaging in.
The Mustangs launched their "Deck the Halls with Season Tickets" promotion on Black Friday. Their marketing team is using social media and the weekly SMU Athletics newsletter to advertise this special. These football season tickets are on sale earlier than in a typical year, making this a perfect holiday gift for any SMU fan. Fans can choose from an array of ticket options and pricing.

Our partners and sales team at South Carolina got creative this holiday season with their "Naughty Not Nice – Lump of Coal" promotion. The offer, run through FEVO, includes a holiday "gift" set ideal for rival fans. The "Naughty Not Nice" set includes holiday packaging, a personalized to and from card with a holiday poem, and a garnet velvet sack of coal. The gift is perfect holiday fun for any South Carolina fan to send to an opposing fan. The gift packages are priced at $15 each and all proceeds benefit the Athletics COVID-19 Resilience Fund.

Our team at West Virginia is offering their fanbase four one of a kind promotions this holiday season, each at a different price point. Each holiday gift is being offered through FEVO.
Similar to our partners at South Carolina, fans can purchase WVU Branded Christmas Coal for their favorite rival fan.
In addition to the Coal Gift Set, West Virginia is offering two different Mountaineer Mystery Boxes, perfect for every Mountaineer super-fan! Each mystery box includes a personalized to/from card and a WVU branded box filled with WVU swag, memorabilia and gear. There is a premium box option, priced slightly higher, that also includes an autographed or game-worn item!
They are also offering Mountaineer Holiday Cards, allowing fans to submit family that are edited with WVU branding. These photos are then displayed on the brand new Coliseum video board during home basketball games. Each customer receives a digital copy they can use to distribute to family and friends!
Fans were also offered a special, Mountaineer Messages, in which they could send personalized holiday greeting cards from Tony Caridi (from WVU's Mountaineer Sports Network) or the WVU Spirit Squad. The Holiday cards and Mountaineer Messages have already both sold out.
Our sales team at Indy Eleven worked with their merchandise team to create three "Holiday Packs" options for their fans this upcoming holiday season. The "Fan Bundle" includes (4) undated 2021 ticket vouchers and Indy Eleven branded scarf, gloves and a car magnet. The "Cup of Cheer" pack includes (2) undated 2021 ticket vouchers and an Indy Eleven branded coffee mug and coffee. The last special allows fans to purchase "gift tickets" in which they can choose any number of undated 2021 ticket vouchers in various locations. The Indy Eleven team plans to create a webpage dedicated to the holiday specials, to send email blasts to their database and to advertise the "Holiday Packs" on all social media platforms.

This year, our team at St. Johns is offering a holiday special involving their 2020-21 Men's and Women's Basketball seasons. Due to capacity restrictions for Carnesecca Arena, fans will not be attendance for the beginning of the two basketball seasons. To combat this, our team is providing fans with a unique opportunity to be featured on the the video board during home games. The offer, being run though FEVO, allows fans to submit hype videos of themselves decked out in St. Johns gear for just $20. Videos that follow the fan guidelines will be featured at home games this season. This offer will run all season long.


The team at Penn State released their Nittany Lion branded Mystery Packs on "Blue and White" Friday. The team used social and email web blasts to advertise the special. The Black Friday Mystery Packs, priced at $30, included 5 pieces of apparel, old equipment and Penn State branded trinkets. The check out page included a lead generation box that provided our team with contact information from potential buyers. This generated 54 season ticket leads for the sales team.
Penn State is also offering fan cutouts for their hockey season in Pegula Ice Arena this holiday season.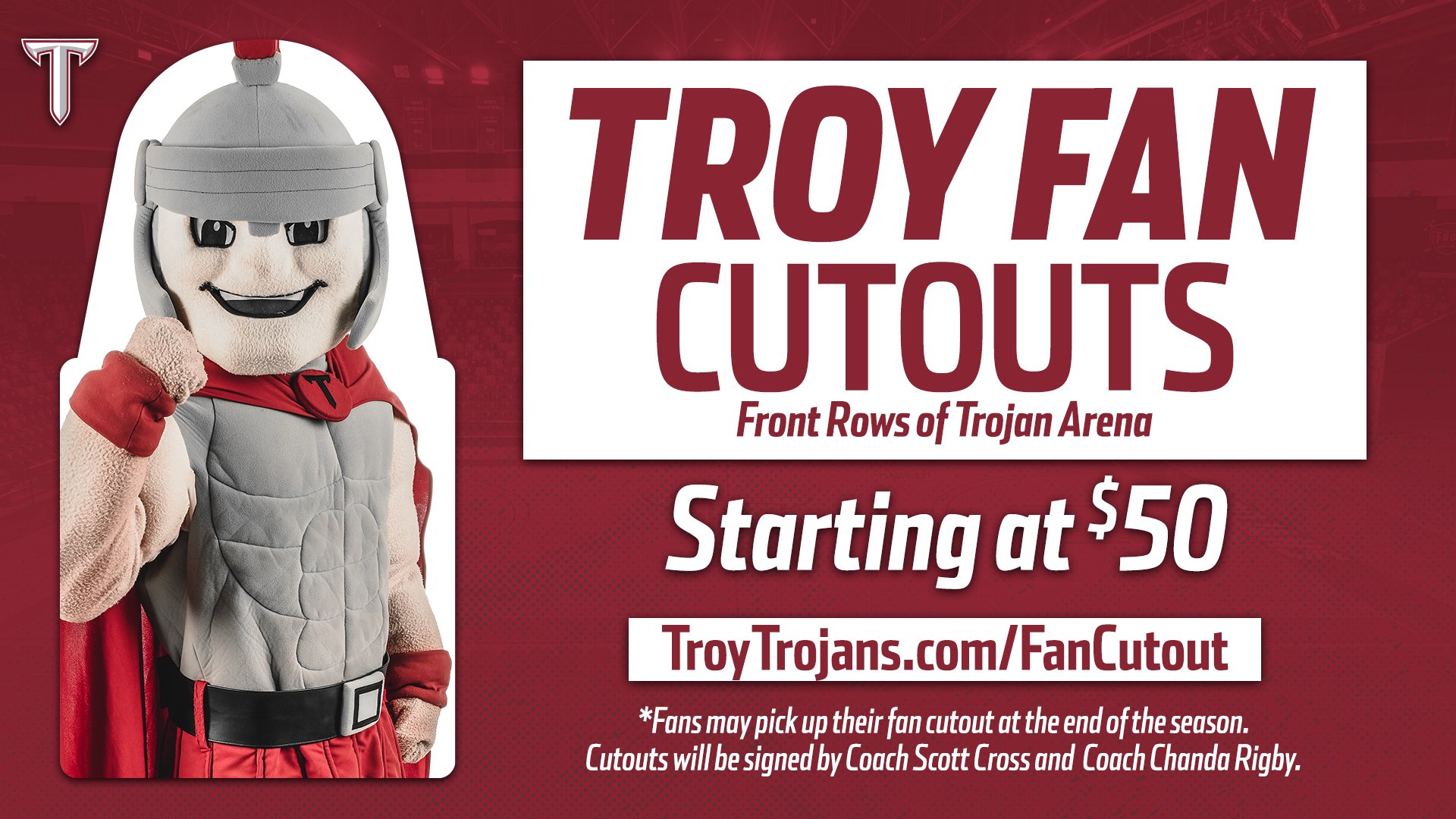 This week, the Trojans released their "Get the Best Seat in the House" basketball Fan Cutout promotion. Two packages are offered to fans and all proceeds will directly benefit the Athletic Department and Trojan Warrior Club. The "General Admission Package" includes one fan cutout that will be randomly placed in the two front sections of the Trojan Arena. The "Reserved Seat Package", priced slightly higher, includes one fan cutout situated behind the team benches. Fans are able to pick up their cutouts after the season is over and have an opportunity to have them signed by both men's basketball coach Scott Cross and women's basketball coach Chanda Rigby. Troy Athletics will be marketing these as a holiday gift and the cutouts will be put in the arena in early January.
Our team at SFA just went on sale with their Holiday Packs. The Lumberjack's Men's and Women's basketball teams both have five Saturday games on their schedule. Purchase of the holiday package will get you into all Saturday games for the season. The total of this package is $50, saving fans $25 when bundling these games together.
They are also offering a holiday pack which includes tickets to a stretch of five consecutive Women's and Men's basketball games starting on December 18th. This five game bundle will cost $20.
During Black Friday through Cyber Monday, the Sooners offered fans an array of Black Friday Ticket packages. Five ticket packages that ranged from $80 to $500 were bundled with a Sooner Gift Pack that included exclusive OU Athletics items such as a Bob Stoops Bobblehead and a Lincoln Riley imprinted Autographed Football. All packages offered ticket bundles at a price discounted from single-game tickets. The team at Oklahoma used FEVO to house all of the ticket packages. 
The Panthers are about to announce their 2021 Football Home Opener Holiday promotion. For only $25, fans can purchase a discounted lower level ticket to Pitt's 2021 home opener against UMass. Along with the ticket, fans will be gifted a Pitt-branded face mask. This offer will be through FEVO.